We are now taking orders for Christmas gift packs for collection from the brewery. Read on on to discover what's available, how to order and when to collect.
WHAT'S AVAILABLE?
We can offer: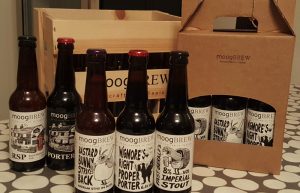 3 bottle pack – in a cardboard display box with any permutation of the 5 beers listed below
12 bottle pack – in a robust cardboard box with any permutation
12 bottle pack – in a branded wooden crate with any permutation
The beers available (with individual bottle prices in brackets) are:
Royal Standard Pale – 3.8% – (£2.50)
Porter – 4.7% – (£2.50)
Bastard Bunny Strikes Back IPA – 6.0% – (£3.00)
Wigmore's Right Proper Porter – 6.5% – (£3.00)
Fast Gerald's Imperial Stout – 8.0% – (£3.50)
Gift pack prices are simply the aggregate price of the bottles selected. We do not charge extra for the packaging, except for the branded wooden crates, which cost an extra £15.00 each.
(We also have a very limited number of 12 packs that include 2 bottles each of our full range of 6 beers – including the last few bottles of the 2016 edition of Selina Saison – 5.4%; when these are gone they are gone!)
HOW TO ORDER?
Simply email info@moogbrew.co.uk with your selection. Please tell us which packs and which beers you prefer in any combination. For example, some popular combinations are:
'Standard 3 pack' – RSP + Porter + Bastard Bunny = £8.00
'Dark 3 pack' – Porter + Wigmore's Porter + Fast Gerald's Stout = £9.00
'Speciality 3 pack' – Bastard Bunny + Wigmore's Porter + Fast Gerald's Stout = £9.50
'Mixed 12 pack' – 3xRSP + 3xPorter + 2xBunny + 2xWigmore + 2xGerald = £34.00 (or £49.00 in a wooden crate)
We'll email back to confirm availability and price. Payment due on collection.
Stocks are strictly limited and orders will be dealt with on a 'first come, first served' basis. If we can't match your precise selection, then we'll suggest an alternative.
WHEN TO COLLECT?
Orders can be collected from the brewery in Marsh Lane, Taplow, on the following dates:
Thursday 15th December, 12-6pm
Friday 16th December, 12-6pm
Saturday 17th December, 12-6pm
Simply pull up on the driveway and we'll load your car! The moogBAR will be also be open on these days for those of you who like to unwind with a cheeky half pint of draft (or two)!
If, for any reason, you are unable to collect n these days, let us know and we'll see i f we can sort out a special arrangement.